Highlight your holiday home with us start by advertising your holiday apartment or villa in our holiday directory in Portugal, Algarve. Increase the number of reservations with Algarve-holidays Find out about ways to promote your home for holidays on the internet, which is currently the most used medium by travelers. Get to know the outstanding services we have for you. 1. Featured area with personalized content We have an area for featured ads, where we put our clients' properties on our front page and consequently in the main search engines. In this outstanding service, an article provided by you can be placed or we can create an article describing your vacation property with photos and texts in a way that is more appealing to potential customers. 2. Promote your home on facebook with Algarve-Férias In addition to our directory, we also place your holiday home on our facebook page. Our facebook page has been growing a lot and every day we work on it in order to reach more potential customers for your property. How it works ? Imagine that you have a T2 in Praia da Rocha for rent, when we receive an availability request with certain characteristics for a T2 in Praia da Rocha, the property that is highlighted and that has these characteristics will be recommended by us with your direct contact . As an example we have: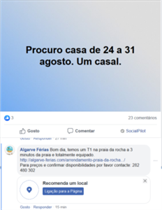 Where a potential customer requests a home on a certain date and we will send that potential customer to you, thus achieving more sales and without having to pay any type of commission for it. In addition to social media, we are also constantly working in partnership with other sites, in order to be able to advertise your property to even more potential customers. 3. Optimization internet page SEO The Algarve-vacation through our booking platform offers a web page with optional service SEO for your page to appear in front of your competition, just to enable this service through your account What the costs of these services?
| | |
| --- | --- |
| 1. Publication of 1 article on our home page for a period of one year. This article can be provided by you or * created by us. | € 50.00 / year |
| * Creation of 1 Article to promote your vacation property | € 50.00 / single |
| 2. Recommendations on social networks | € 50.00 / month |
| 3. Website SEO optimization This service is exclusive for those who use our platform to create their website | On request |
Find out how to advertise your vacation property today. For more information, please contact us .